Carjackings: What to Know and How to Prevent Being Carjacked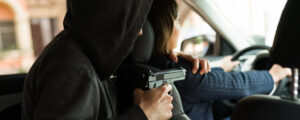 Cities across the nation, including here in Pennsylvania, are experiencing an increase in carjackings. Philadelphia carjackings increased more than 85 percent from 2020 to 2021 according to the Philadelphia Police Major Crimes Auto Squad. These crimes are often violent and know no bounds between neighborhoods. An article in The New York Times reported that many thieves are also startlingly young. Here's what you need to know about carjackings and how to protect yourself.
When and where do carjackings happen?
Carjackings can happen anywhere: at a stop sign, a busy intersection, the grocery store parking lot or right outside of your home. In 2021, nearly a quarter of carjackings in Philadelphia happened when the victim was sitting in a parked vehicle—sometimes texting. A third of Philadelphia carjackings occurred as the driver was parking their car, approaching the parked car, or just stepping away after parking a vehicle. Be aware of your surroundings at all times.

Who is at risk of being a victim of a carjacking?
Anyone and everyone. This crime knows no bounds. Even cars with children inside have been reported as stolen. In 2021, food delivery drivers were called to a location and carjacked by a customer more than 100 times in Philadelphia.


What types of cars are targeted the most?
As we know with auto theft crimes, some vehicles are targeted more than others. Carjackers are not targeting rare, luxury models. Older and more common car models are often targeted due to the value of the car parts. But, other times, there is no specific target—the thieves take it for a joyride or use it to commit another crime. According to the Philadelphia Police Department, as of May 2022, the top carjacked car models in Philadelphia were:

Accord
Altima
Camry
Civic
CRV
Malibu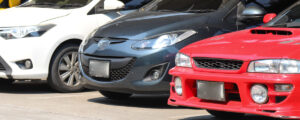 Are these crimes violent?
Sadly, yes. In Philadelphia, a handgun was used in 74 percent of the carjacking cases in 2021, and 148 victims were either assaulted, or physically forced out of their vehicle.
Why have carjackings increased?
Although no one can say for sure, the root causes of this sharp increase in carjackings is likely due to a number of possible issues:

Newer model cars have anti-theft protection features that makes it difficult to steal a car that's locked—meaning the thief must steal the car directly from the driver.

The pandemic caused people to spend more time at home. This made other types of theft (like home burglaries) more challenging, therefore making car theft more attractive to thieves. 

Cities across the country are seeing vehicles being stolen to commit other crimes, such as drive-by shootings.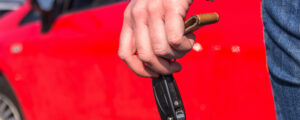 How can I prevent myself from being the victim of a carjacking?
Park in a well-lit area where others can see you and your vehicle.

Use a valet service if available.

Park as close as possible to the main entrance of your destination.

Whenever possible, park in view of a surveillance camera.

Ask for assistance from an escort such as a doorman, parking attendant, or security officer to accompany you or watch you as you walk to your car.

Be aware of your surroundings and look for suspicious persons or vehicles near your car or following you.

Walk with your head up, and be alert and aware of your surroundings. 

Have your keys out and ready as you approach your car, and unlock your door quickly.

Use your panic button feature if you feel something isn't right.

Get in your car quickly, lock the doors immediately and drive away. Do not sit in your car to make calls or text.
What is the Auto Theft Prevention Authority?
Created in 1994 by the state General Assembly, the Pennsylvania Auto Theft Prevention Authority (ATPA) provides grants statewide to law enforcement agencies with the goal of reducing auto theft. Since inception, vehicle theft rates in Pennsylvania have decreased 73 percent, compared to a national decrease of only 47 percent. 

For more information on auto theft prevention, follow us on Facebook or Twitter.